Campaign Management
04 Apr 2023

2 Minutes to read
Campaign Management
Updated on 04 Apr 2023

2 Minutes to read
---
Campaign management includes creating, searching, and downloading campaign data. Please read the following to understand how to manage campaigns in Tenjin.
---
You can filter your campaigns either by app, platform, or channel as shown below. You can use search with any string match for your campaign name in the "Refine by" field. In the example below, you will see any campaigns that has "US" in the campaign name.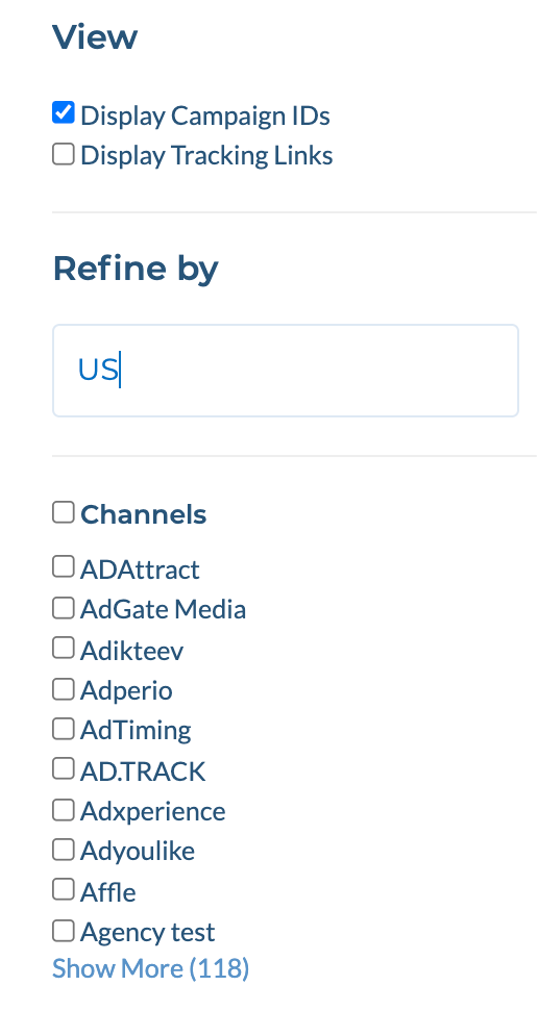 ---
Batch uploading campaigns from a CSV will save you time if you have a lot of campaigns to create. Just click on "Batch Upload", select your channel, and upload the CSV with the correct headers.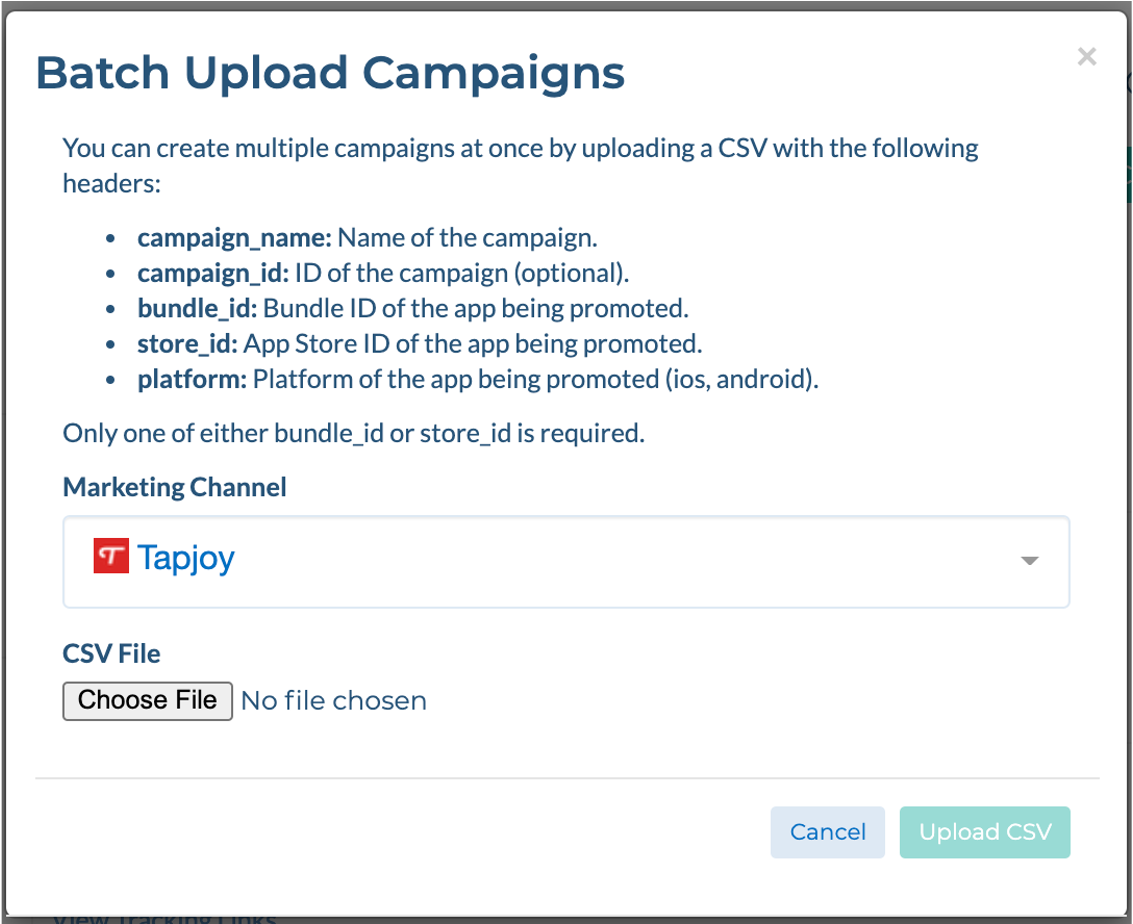 The csv should contain the following headers.
campaign_name: Name of the campaign.
campaign_id: ID of the campaign (optional).
bundle_id: Bundle ID of the app being promoted.
store_id: App Store ID of the app being promoted.
platform: Platform of the app being promoted (ios, android).
After your campaigns are created sucessfully, you will receive an email notification.
---
You can also download a list of your campaigns by clicking on "Download Results as CSV". The CSV will contain all the campaigns that you have selected in the search filters.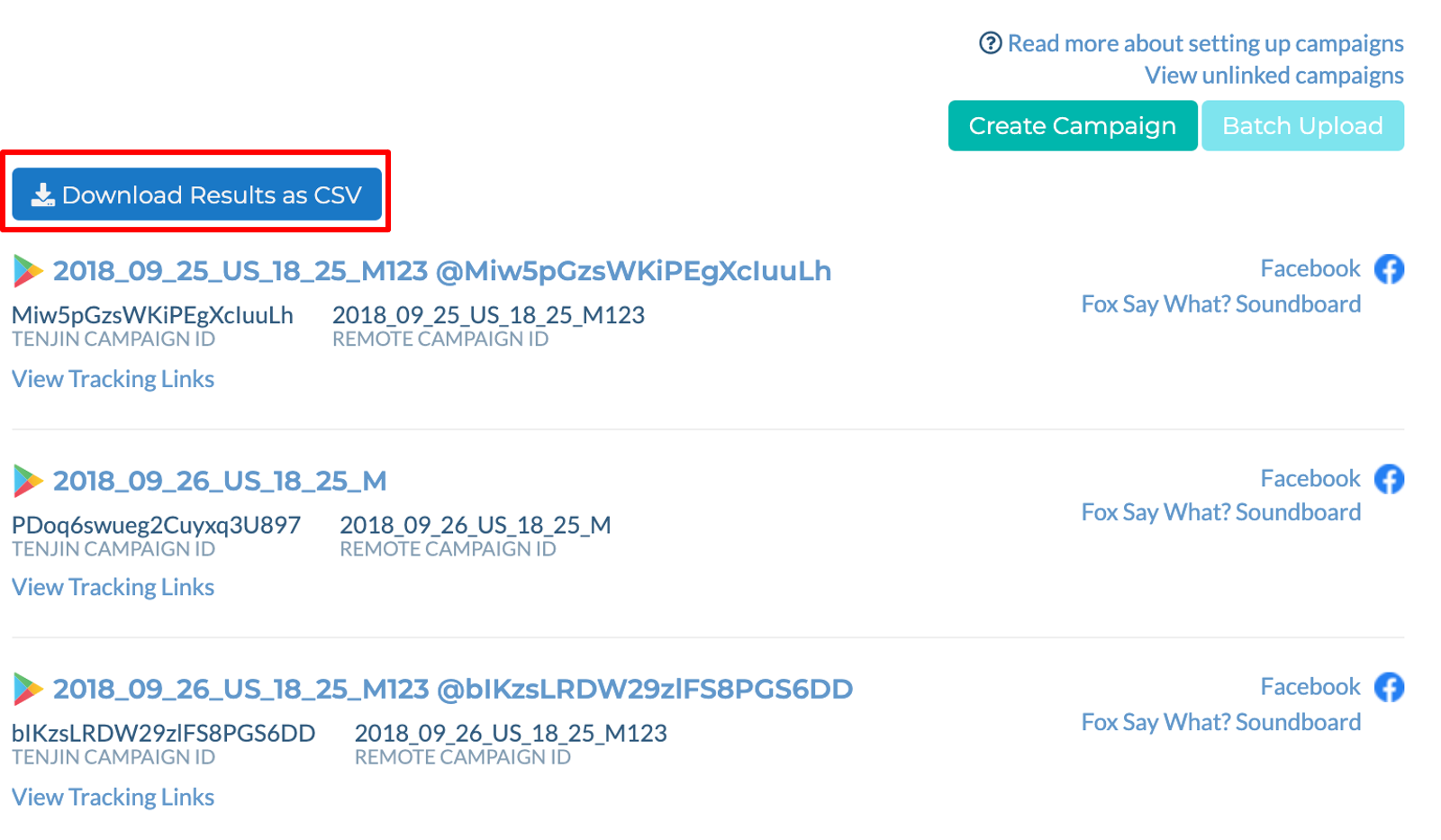 ---
You can add Targeting Tags for each campaign that enables you to analyze the campaign performance grouped by those tags. Go to a specific campaign and create a tag in the following format.
Tag name: Tag value
There are pre-configured tags such as Gender and Age. You can add as many tags as you want. Here are some tips to make the best use of your tags, and to ensure that your data is not double counted during aggregation.
Tags should be of the form Category: Segment, where category and segment are separated by colon : and space (e.g., Income: High, Gender: Female, Genre: Puzzle). Categories will appear in the dashboard as options for grouping.
The segments within a category work best when they are mutually exclusive and not additive. An example of mutually exclusive tags is Age: 20 to 29 and Age: 30 to 50.
Do not use multiple tags from the same category on the same campaign. Instead, create a new set of tags, such as Age-alternate: 20 to 50.
You can tag your campaign even after your campaign has finished running. Tenjin will retroactively go back, analyze, and tag all your campaigns with the appropriate properties so your dashboard will appropriately reflect the tags when grouping by certain properties.
---
Was this article helpful?
---
What's Next